An election integrity group said 10.9 million out of a total 22.1 million ballots that had been mailed out to registered voters during the 2022 midterm elections went "unaccounted for," according to a Jan. 18 report.
"Mail voting practices have an insurmountable information gap," the Public Interest Legal Foundation (PILF) said on Monday. "The public cannot know how many ballots were disregarded, delivered to wrong mailboxes, or even withheld from the proper recipient by someone at the same address."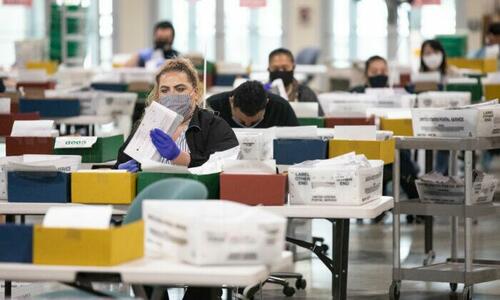 People count California recall ballot votes at a Los Angeles Registrar site at the Los Angeles Fair Grounds in Pomona, Calif., on Aug. 31, 2021. (John Fredricks/The Epoch Times)
The watchdog released the two-page report (pdf) detailing what it called "the failures" of California's first mass-mail balloting election following the passage of Assembly Bill 37 (AB 37), which requires that ballots automatically be mailed to all active registered voters statewide. The bill, signed into law by Gov. Gavin Newsom in September 2021, makes vote-by-mail ballots, a practice implemented in the 2020 general election in conjunction with the COVID-19 pandemic, permanent for all elections.
California has more registered voters than any other state. Yet its vote-by-mail policies—among the nation's most expansive—have resulted in large numbers of ballots "disappearing at poll closing time," PILF's data show.
"After accounting for polling place votes and rejected ballots in November 2022, there were more than 10 million ballots left outstanding, meaning election officials do not know what happened to them," reads the Wednesday report.
"It is fair to assume that the bulk of these were ignored or ultimately thrown out by the intended recipients. But, under mass-mail elections, we can only assume what happened," it continued.