Thought for the day
"The great majority of mankind are satisfied with appearances, as though they are realities, and are often even more influenced by the things that seem than by those that are." -- Niccoló Machiavelli, "The Discourses." 1517.
Greenwald: The Media's Deranged Hysteria Over Elon Musk's Promised Restoration Of Free Speech
MikeRivero
Tue, 11/29/2022 - 10:28
It was easy to predict that there would be an all-out war from Western power centers if Musk sought to mildly reduce censorship on Twitter. Still, the media outdid itself...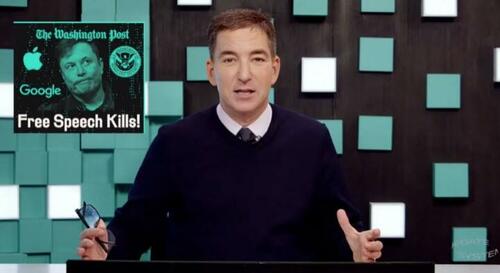 New York Times leads media call for Biden to drop Assange charges
MikeRivero
Tue, 11/29/2022 - 10:07
Five major news outlets, including the New York Times, have called on the Biden administration to drop charges against WikiLeaks founder Julian Assange. Obtaining and publishing "sensitive information," they wrote, "is a core part of the daily work of journalists."
The New York Times, The Guardian, Le Monde, Der Spiegel, and El Pais all published details from diplomatic cables obtained by WikiLeaks in 2010. These documents revealed that the US spied on its allies, undercounted civilian casualties in Iraq and Afghanistan, and waged a secret war in Yemen.
The Four Fuckeries
MikeRivero
Tue, 11/29/2022 - 09:46
I doubt there is another era in the history of Western Civ when the forces in-motion acting on society were so mystifying to those acted upon. And isn't it especially galling that this is so in an age after rational scientific practice had decoded so many of nature's secrets? Did that project somehow fail in the end? Has the Enlightenment been defeated? How have we become trapped like frogs being boiled haplessly in our own pond-water?
The United States has no higher priority than the safety, health, and well-being of American citizens overseas.
A great survey of the state-of-the-art of government censorship.
From the Richard Grove YouTube channel.
Great insights into what to expect next from Twitter and others.
Big Tech Is Furious Andrew Tate Is Exposing The Great Reset
MikeRivero
Tue, 11/29/2022 - 08:56
In yet another example of Big Tech tyranny, YouTube nuked a viral "Full Send Podcast" episode featuring controversial "manosphere" figure Andrew Tate last week. The video, which was posted in August, had been viewed by millions and was one of the "Full Send Podcast's" most popular videos. 
Separate Tech and State
MikeRivero
Tue, 11/29/2022 - 08:55
Senator Ed Markey (D-MA) recently got in touch with his inner mobster and threatened Elon Musk — the new owner of Twitter and the CEO of electric car company Tesla and space ventures company SpaceX. He told Musk, "Fix your companies" or "Congress will." As part of this threat, Markey referred to an ongoing National Highway Traffic Safety Administration (NHTSA) investigation into Tesla's autopilot driving system and Twitter's 2011 consent decree with the Federal Trade Commission (FTC).
WARNING-Graphic footage: Fox News host Tucker Carlson rips the reaction from the Biden administration and the left to protests in China over the COVID-19 lockdowns on 'Tucker Carlson Tonight.'
Xi's increasingly desperate bid to suppress China's uprising: Censors try (but fail) to scrub images of blank sheets of paper being held up by protesters from the internet as the anti-regime A4 revolution continues across the country
MikeRivero
Tue, 11/29/2022 - 08:48
China's censors have been overwhelmed as they try to wipe images of blank sheets of white paper used by protesters in a growing number of demonstrations against President Xi Jinping's zero-Covid policy from the internet.
The country is currently facing its largest anti-government protests since the Tiananmen Square massacre, with protesters in at least seven cities holding up blank sheets of paper to symbolise censorship.